UPDATE UPDATE UPDATE UPDATE UPDATE UPDATE UPDATE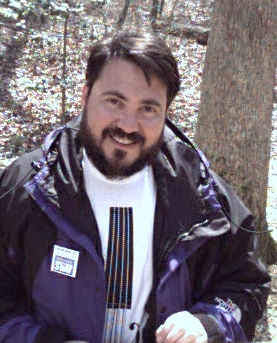 From, mAx, the walking bass Wednesday, April 10, 2002
Hello Everyone! Welcome to my second official newsletter - "bulk mail" from the bulk male..... ;->)
Today's biggest news that I have made another schedule change - okay, just call me "The Waffling Bass"...... But this change returns me back to square one, walking from Baltimore to Washington, DC as originally scheduled. The trip to Korea I spoke of in my last newsletter has been rescheduled to later in the month. On may levels it made much more sense to stay close to home for the walk. One of the advantages is being able to re-join my team, "KinderPeople" which is led by Suede's sister, Amy. I am confident that there will be no further schedule changes....
In the foot department - the custom orthotics haven't arrived, but the inserts I'm using are working pretty well, and my weekly mileage is right on target. The weather here has been great for long hours on the trail! Yesterday was my birthday, and I woke up with some brand new hip discomfort - what a gift....
In the fund raising department, it is with much humility and pride that I announce to you I have met my requirement!!!! As of today, my "official" total sponsorship amount is $2,135. THANK YOU ALL!!! Donations continue to trickle in, but as I mentioned in my last letter, the accounting system at Pallotta TeamWorks is very slow. Contributions can take three (or more) weeks to enter the system - a complicated situation made even more crazy by my schedule changes! So, if you have not received a personal thank you note from me for your donation, that means your donation has not posted to my account yet. If you haven't already informed me the amount you contributed, it would be a great benefit to me to help keep my finances in order.
Whether or not your contribution has cleared the system, or was sent to the DC or Boston walker numbers - all funds will eventually be consolidated in my name. And if you have yet to contribute, please use DC walker number 7037, or go to the DC web page listed below.
That's all the text I'll subject you to this time, but more in a week or so. I hope all is well in your world, and I thank you again for both your moral support & financial support. This is the power of extraordinary actions by (extra)ordinary people!
Peace & health!
mAx, the walking bass
--------------------------------------------------------------------------------
P.S. - check out my 3-Day web pages - complete with photo taken by my son, Aaron.
DC = http://homepage.bethepeople.com/display/mp_page.php?page_id=6395
Boston = http://homepage.bethepeople.com/display/mp_page.php?page_id=2416
---
3 Day Letter | Update 1 | Update 2 | Update 3