UPDATE UPDATE UPDATE UPDATE UPDATE UPDATE UPDATE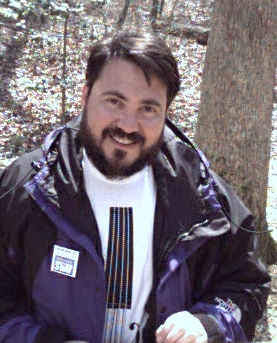 Thursday, March 28, 2002
Hello Everyone! Welcome to my first official newsletter. Please excuse the "bulk mail" format - after all, I am a bulk male..... ;->)
I have a few tidbits of info to pass along. First, in regard to training. Two weeks ago I started getting some pain in my left foot. Turns out that my new sneaks had next to no arch support.... viola, fallen arches. Metatarsalgia, to be specific. So I had to cut back briefly on training, and mega-dose the Naproxen to give the foot a bit of a break.. Also, I've seen a Podiatrist. In a couple of weeks, my custom fitted orthotic insoles will arrive, and my feet will be super happy :) In the meantime, I have some very good insoles to keep me "on the trail." I am almost back to my 40 mile average week again :)
Fundraising is going well, thanks to you - This newsletter is being sent only to people that have specifically indicated their intent to make a donation. I have faith that everyone will follow through. Unfortunately, the accounting system at Pallotta TeamWorks is pretty slow, and contributions can take three weeks to get entered into the system. If you have not received a personal thank you note from me for your donation, that means your donation has not posted to my account yet. Please do me a huge favor, and help me keep track of donations by sending me a quick note stating the amount you contributed, the method of payment, and the date of your donation. While I am not sure the exact level of generosity sent in to my walker number, I CAN tell you that according to the statement, I have raised over half of my goal! It's totally motivating to have this type of support and encouragement! Thanks again! I am very grateful to you for your financial support!
I am also pleased to announce my first "corporate" sponsor, David Gage String Instrument Repair in New York City. He is the double bass luthier to the stars. He also designed "The Realist" upright bass pickup - which I have used for years. He writes a monthly column in Bass Player magazine called Woodshed", and is a member of the advisory board of The International Society of Bassists. I can't thank him enough for his support & generosity! For more info about him, please visit www.davidgage.com . In addition to his financial support, David Gage sent me 3 very cool t-shirts to wear during the walk. They depict features of double bass on the front, so the person wearing the shirt (me) LOOKS like a bass!
Probably the most radical, and latest breaking news to pass is that I have changed venues. As you may know, I am a member of the Fred Hughes Trio - a "muscular piano jazz group," signed with Summit Records. We have been invited to perform in South Korea the first week of May, and the offer was too good to ignore. At first, I wasn't exactly sure how to keep my solemn commitment to the 3-Day Breast Cancer Walk, AND fulfill my duties with the band. After brainstorming with my lovely, and totally supportive wife, Krista - we found the answer! As of Monday, I have switched from the Baltimore - DC walk, and am now registered for the Boston, MA 3-Day Breast Cancer Walk.. The new dates are May 17th - 19th. More info on my travel plans will follow. Whether your contribution has cleared the system or not, funds will automatically be transferred from my old walker number (3DDC2002-7037) to the new number (3DBO2002-6527). If you have yet to contribute, please use the new Boston walker number.
That's all the text I'll subject you to this time, but more in a week or so. I hope all is well in your world, and I thank you again for both your moral support & financial support. This is the power of extraordinary actions by (extra)ordinary people!
More Later!
mAx, the walking bass
---
3 Day Letter | Update 1 | Update 2 | Update 3